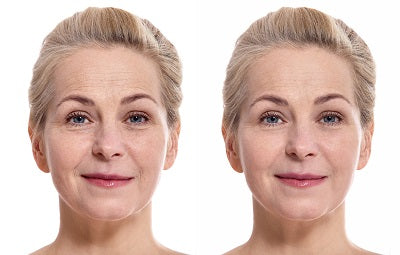 Skin Rejuvenation to Make You Look and Feel Younger
Here at Refresh, we perform non-invasive skin-tightening and rejuvenation procedures in Newtown to reverse your skin's aging process that leads to sagging. Every case is unique, but this typically involves treatments on the following:
Arms
Areas of the face
Buttocks
Chin
Knees
Legs
Neck
Stomach
For a variety of reasons, from gravity to weight loss, skin gets looser as we age. We reverse this natural process with our non-invasive skin and face tightening procedures in Newtown.
Now, people just like you in areas of Pennsylvania including Newtown, Rittenhouse, Southampton, Warminster, and North East Philadelphia can look and feel their best with some of the most advanced procedures modern medicine has to offer regarding non-invasive facial skin-tightening services in Newtown, Pennsylvania, and the surrounding areas.
One of the non-invasive skin and face tightening procedures we perform that increases the body's collagen production is Near Infrared Radiation (NIR) skin tightening. During this procedure, we use lasers to tighten the skin painlessly, making NIR skin and facial tightening in Newtown a safe option!
This procedure is a natural way to help your immune system to rejuvenate your skin. It works with microneedles, injected into deep layers of skin at the problem area to increase the production of collagen and elastin, two bodily proteins that promote healthy, younger-looking skin.
By increasing elasticity and decreasing the appearance of scars, acne, stretch marks, and other unsightly skin features, your skin will look and feel healthier.
FDA-approved for reducing submental fullness (or, more informally, double chins), Kybella is a marvelously effective injectable. No matter how you acquired your double chin (weight gain, genetics, and aging are the three leading causes), Kybella is the non-invasive alternative to liposuction surgery.
It works with deoxycholic acid, which absorbs and dissolves the fat in the facial area. With two or three treatments over three to six months, results are typically permanent, even if you gain weight and fat in other areas of the body.
Botulinum Toxin, Botox for short, is injected to relax muscles, smoothing out fine lines and wrinkles all over the face, from the forehead and eyes to the nose and mouth. This procedure leads to a more youthful look in both women and men. Despite the harmful-sounding nature of the word toxin, Botulinum Toxin is not harmful and is FDA-approved.
Dermal fillers are injectable gels that boost elasticity and promote a healthy look for your skin. Our Board-Licensed Physician, Dr. Lori Gerber, performs these FDA-certified procedures. At Refresh Wellness, you have your choice of name-brand dermal fillers, depending on the facial area whose appearance you want to improve:
Belotero
Fixes smile lines and improves both the vertical lip lines and under-eye areas.
Juvederm
Fills the lines around the eyes, mouth, and nose.
Radiesse
Augments and re-contours the cheeks, chin, nose, and mouth areas.
Volbella
Mends smile lines above the lips while subtly augmenting the lips.
Voluma
Gives a fuller look to more sunken cheeks.
In addition to our non-invasive skin tightening and rejuvenation procedures in Newtown, Rittenhouse, Southampton, Warminster, and North East Philadelphia, we also offer weight loss programs and life coaching so that people in Pennsylvania can not only look healthy but also feel and be healthy. Contact Refresh today!