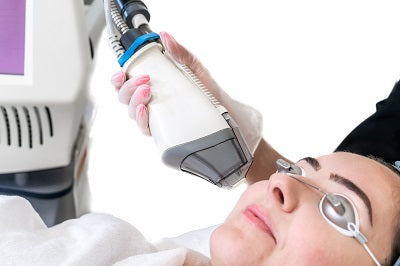 Fraxel Laser Treatment
There are many preventative steps you can take to ensure younger-looking skin, like moisturizing, cleansing, and exfoliating. However, while doing such things are recommended ways to safeguard the skin, they don't always prevent common signs of aging like Fraxel facial treatment in Newtown does. In many cases, seeking medical treatments for wrinkles, scars, age spots, and sun damage can help restore skin to its former youthful appearance. At Refresh, our Fraxel laser treatments in Newtown, PA, are designed to aid individuals struggling with their appearance regain self-confidence.
Whether you're living with mild, moderate, or severe skin damage in Langhorne, Yardley, Center City, or Southampton, there are a wide variety of cosmetic treatments that we can accomplish by utilizing Fraxel facial treatment in Newtown. Some of these treatments include NIR skin tightening, Kybella, chemical peel treatments, and many more. When you schedule a comprehensive free consultation with us for Melasma treatment in Newtown or any other procedure, we can assess your problem areas and determine which of our best services.
Non-Ablative Laser Skin Resurfacing in Newton, PA
Non-Ablative Laser Resurfacing, or sometimes called Non-Ablative Fractional Resurfacing (NFR), aims to improve the wound and skin healing process by speeding up and enhancing collagen growth and remodeling. Unlike ablative lasers, which remove the outer layer of the skin, non-ablative laser resurfacing is a minimally-invasive treatment method that penetrates the dermis. As a result, they leave the surrounding tissue on the surface of the skin unaffected, making them an exceptional option for Fraxel facial care in Newtown.
Fraxel Laser Skin Rejuvenation in Newton, PA
Fraxel Laser treatments are among the most sophisticated elements of skin rejuvenation technology that exist today. They are easily controlled by trained medical technicians and are used to effectively improve the skin's texture. Fraxel Laser treatments work by penetrating just below the skin's surface to deliver a consistent dose of appropriate, natural heat to troubled areas. The heat promotes collagen production, which helps to improve fine lines and wrinkles. This process is preferable to the older "stamping" method for skincare because it reduces swelling and inflammation in affected areas and requires less downtime on the part of the patient. It is both cleared by the FDA and has been subject to countless medical trials to prove its effectiveness.
What are the Benefits?
Undergoing Fraxel Laser rejuvenation in Newtown is a safe, effective, non-invasive treatment method for various skin conditions. These conditions can range from mild to severe and include everything from acne scarring, photodamage, and pigmented lesions to Melasma, skin tightening, wrinkle reduction, and much more. Having Fraxel facial treatment in Newtown can also reduce periorbital wrinkles, chest lines, neck creases, and laxity in the face and neck.
Visit Newtown, PA, and Improve the Surface of Your Skin
Dr. Lori Gerber, our licensed dermatologist, has the expertise to treat patients looking to rejuvenate their skin with microneedling treatments, Botox injections, dermal fillers, and other Fraxel facial treatments in Newtown. If wrinkles and scars or dark spots caused by Melasma are affecting the quality of your skin, there are many Melasma treatments in Newton that you could benefit from undergoing. Our patients in Langhorne, Yardley, Center City and Southampton turn to Refresh, where they know they will receive quality results with minimal downtime. For more information about our Non-Ablative Laser skin rejuvenation and resurfacing in Newtown, please contact Refresh and schedule your consultation today.