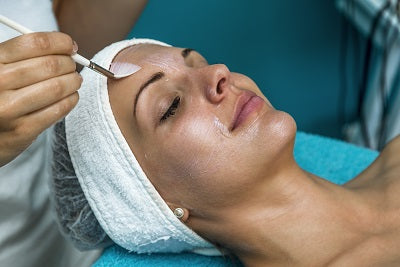 Chemical Peel Treatments Specifically Designed for You
Are you struggling with stubborn acne scars, hyperpigmentation issues, acne, large pores, dull skin, fine lines, or rosacea? A standard facial at your local spa simply won't address the root of your skin problems. What you are looking for is Refresh's chemical peel treatment for acne in Newtown, PA! A glycolic chemical peel safely removes the top layer of skin on your face so that younger, undamaged skin cells can rise to the surface. Refresh offers chemical peels designed to target a broad spectrum of skin problems. If you are self-conscious about your skin because of acne, hyperpigmentation, or rosacea, and you want to regain your confidence — let us restore that youthful, vibrant glow to your face (and that beautiful smile) with a chemical peel. At Refresh, we also offer skin peeling and chemical peeling for hyperpigmentation at our Newtown office for patients in the following Eastern Pennsylvania communities:
Chestnut Hill
Langhorne
Northeast Philadelphia
Rittenhouse
Warminster
Common Misconceptions About Chemical Peels
The word "chemical peel" might sound scary, and there's no doubt that it's a procedure that has been the subject of some controversy over the years. But the chemical peel treatments for acne in Newtown that we perform have come a long way. New chemical solutions are finely tuned to diminish lines, improve skin tone, and enhance skin quality without the tender, raw skin associated with chemical peel treatments of yesteryear. The procedure can benefit almost anyone, even those with sensitive skin. Dermatologists agree that frequent sun exposure causes severe damage to the skin on your face, and our chemical peels are a great way to achieve complete facial rejuvenation in Newtown. This procedure is not dangerous, as advances in science and medical technology have removed the need for hazardous chemicals that result in more pain than beauty.
How it Works
Chemical peels give your skin a total rejuvenation. A safe chemical solution is applied to your face, then the top layer of skin is peeled away to reveal a beautiful glow and healthier-looking skin. When the top layer of skin sheds, cells previously located below the surface move up, increasing collagen production and triggering a complete rejuvenation of your skin. After removing surface skin cells, patients will see improvements in acne, fine lines, wrinkles, and skin discoloration. Peels have long-lasting effects because the chemicals linger in the skin's pores, keeping them unclogged and reducing acne and breakouts as a result. Our chemical peels for acne scars available in Newtown are safe to use on all skin tones since the chemicals can be adjusted to meet the unique needs of each patient.
Types of Procedures Available
Refresh offers numerous different skin procedures for residents of Newtown and the surrounding areas. Some of our services include:
Chemical Peeling for Hyperpigmentation
Dermaplaning Facial
Facial Rejuvenation
Facial for Sensitive Skin
Glycolic Chemical Peel
Rosacea Treatment
Skin Peeling Treatment
Finding the Best Chemical Peel Solution for Your Skin Type
Refresh offers medical-grade chemical peels designed to improve various skin conditions. Our solutions can help fade acne scars and skin discoloration and repair damage from mild and severe skin conditions. Refresh's glycolic chemical peel services in Newtown can help give men and women the youthful, vibrant look they've been hoping to achieve. Ultimately, our staff will help you determine which chemical peel is suitable for your skin. Chemical peels are also a popular choice for patients seeking an alternative to Fraxel laser treatments.
Dermaplaning Facials in Newtown and Other Refresh Procedures
Additionally, we offer several other facial services for sensitive skin as well. Our other skin treatment options include:
To learn more about our procedures regarding rosacea treatment and chemical peels for acne scars in Newtown, Pennsylvania, and other solutions for acne scars, and hyperpigmentation available, call us or browse our website.