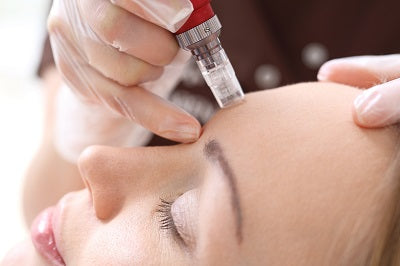 Microneedling Treatment to Improve Your Skin's Appearance
Refresh proudly offers microneedling facial treatments in Newtown to help create a newer, healthier, and better you. Please read below to learn more about our microneedling facials and other cosmetic treatments that can give your self-confidence a boost and improve your appearance.
What is Microneedling Treatment?
The microneedling facials in Newtown we offer are a cosmetic process in which a certified device is used to inject "microneedles" into the deeper layers of the skin in a particular area. This technique promotes the production of elastin and collagen for the skin to rejuvenate problem areas without pain. The procedure works in tandem with your body's natural immune system; over time, it helps to replace any damaged skin with new, healthy, more youthful skin.
What Are the Benefits of Undergoing Our Microneedling Facial Treatments?
Microneedling tightens the skin and enhances the contours and volume of the face, and the technique can also be utilized in reducing the appearance of scars or acne. Many patients with mild or severe skin conditions make use of microneedling to relieve their symptoms, while other patients use it to erase stretch marks on their stomachs, arms, and other areas of the body. Microneedling is beneficial in improving the elasticity and youthfulness of your skin while also erasing unsightly scars or signs of stretching, boosting your overall self-confidence as well.
Are the Results of Our Microneedling Facials in Newtown Permanent?
When treating scars and stretch marks, the results are typically permanent and long-lasting. Once scars are softened, they can be expected to stay that way as long as the skin is not injured again.
Other Treatment Options
In addition to our microneedling treatments in Newtown, Refresh also offers a variety of programs and cosmetic procedures at our treatment center in Pennsylvania that include:
Make Your Appointment With Us Today!
At Refresh, we're devoted to serving you, whether you live here in Newtown, PA, in Society Hill, or anywhere in the Greater Philadelphia area. For more information about our microneedling facial treatments in Newtown or to talk with our staff about your unique situation, please contact our team by giving us a call today to learn more about what our professionals can do for you!