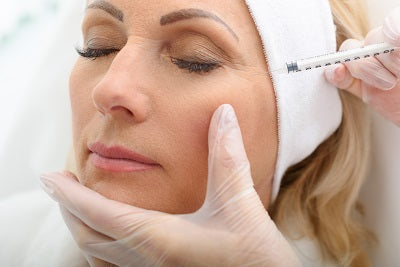 Preventative Botox Can Preserve Your Youthful Look
Fine lines and wrinkles can make you feel and look older, decreasing your self-confidence and adding to your self-consciousness. If you don't have under-eye wrinkles or fine lines elsewhere on your face yet, you can stop their destructive power before they begin with preventative Botox treatments in Newtown from Refresh. Those who live in Rittenhouse, Center City, or Southampton, Pennsylvania, do not need to worry about wrinkles if they take steps to prevent them early on by visiting Refresh! Those who suffer from wrinkles shouldn't worry either, as jaw and under-eye wrinkle Botox treatments in Newtown can help rejuvenate their skin!
Explaining Botox
Botox is short for Botulinum Toxin, but it is not harmful despite the negative connotation typically associated with the word toxin. Botulinum Toxin is available in these three common-name types:
Regular Botox
Dysport
Xeomin
All three types have been approved by the FDA and are also recognized as effective cosmetic procedures for under-eye wrinkle Botox treatments in Newtown and around the globe.
Benefits of Jaw Botox Treatments and Other Facial Procedures
With Botox, you can smooth all kinds of unwanted fine lines, frown lines, and wrinkles with under-eye wrinkle Botox procedures in Newtown, by relaxing facial muscles so both men and women can restore their youthful look. This Botox works areas of the face such as:
No matter your gender, improving your facial appearance with under-eye Botox treatments in Newtown can enhance your mood and boost self-confidence. Additional advantages of Botox include its use as a migraine treatment, reducing excessive underarm sweating, and contouring the jawline with jaw-slimming Botox procedures in Newtown.
Improving Your Appearance in Other Ways
We can inject microneedles into the deep layers of your skin to increase the body's production of two types of proteins, elastin and collagen, which help your skin become healthier and look younger. This non-invasive procedure provides a rejuvenating effect by healing scars, reducing acne, and removing stretch marks.
This FDA-approved injectable designed for jaw-slimming can reduce the presence of your double chin. Weight gain, genetics, and aging might cause your jawline to lose its youthful and thin appearance. Still, the jaw-slimming effects of Kybella result in a non-invasive alternative to liposuction procedures. The vital component in Kybella is deoxycholic acid, which naturally absorbs the fat in the submental fullness and dissolves it. We highly recommend two or three treatments for a three- to six-month timespan for the most permanent effects.
If the top layer of skin is ravaged by wrinkles, acne, discoloration, and is overall unhealthy, we administer a safe chemical solution to the face so we can peel away this top layer and allow healthy cells, which were underneath the surface previously, to become the new layer on top. As the chemical solution lingers in the skin, it unclogs pores to achieve long-term rejuvenation.
To help rejuvenate your skin so you feel and look healthier, consult our integrative medicine center for jaw slimming and under-eye wrinkle Botox treatments in Newton. We also offer preventative Botox procedures in Newtown, in addition to dermal fillers, non-ablative laser resurfacing, and life-coaching. Contact Refresh today!