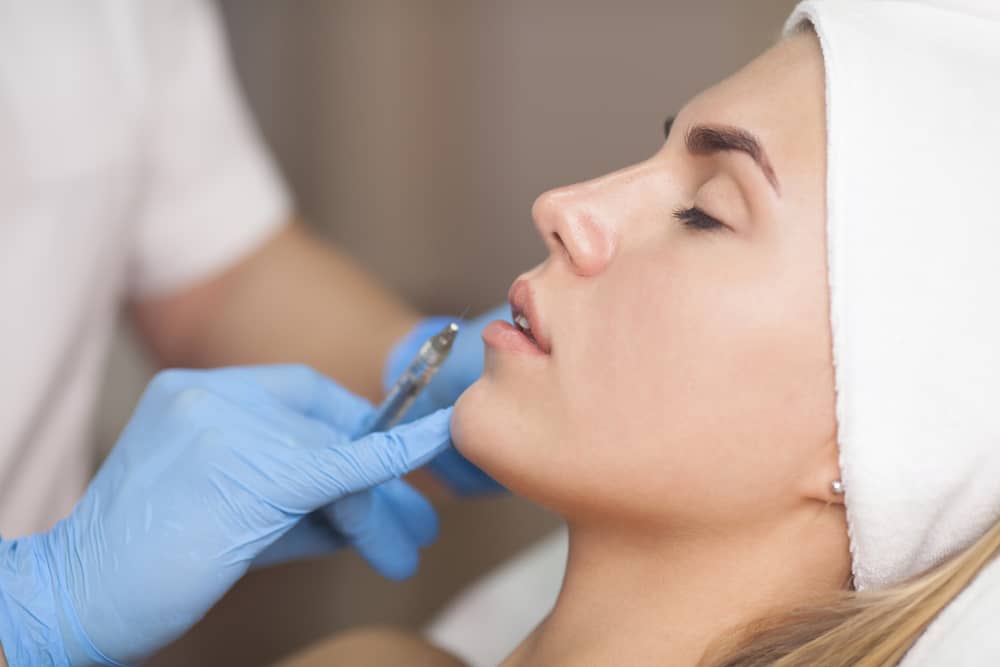 Minimally-Invasive Dermal Filler Injections in PA
The natural aging process, outside lifestyle factors, and genetics can all be causes of wrinkles and folds in the face. With the evolution of cosmetic procedures, advanced treatments have become available to reverse the signs of aging by decreasing the appearance of wrinkles and providing a healthy, more revitalized appearance. Popular face and skin treatments for under-eye bags, acne scars, and of course, wrinkles include NIR skin tightening, microneedling treatment, Botox injections, and our derma lip and facial fillers in Newtown. The battle against fine lines and wrinkles has been long-standing; however, developments in cosmetic treatments allow for a safe, minimally-invasive solution. With fillers for under-eye bags and dermal filler injections in Newtown, you can turn back the clock and reduce these common signs of aging.
Some of the many facial fillers in Newtown we offer include:
Chin augmentation fillers
Dermal filler injections
Face filler injections
Fillers under-eye bags
Lip line fillers
Smile line fillers
Under-eye filler
And several other types of facial fillers
Achieve Your Aesthetic Goals With Derma Lip Fillers in Newtown, PA
Refresh uses injectable gels, called dermal fillers, to smooth out fine lines and wrinkles and the overall appearance of a patient's skin. All of our procedures are performed by our well-trained staff, and our products are certified safe by the FDA. Treat yourself to revitalizing cosmetic procedures and treatments such as chin augmentation, microneedling, and derma lip fillers in Newtown from professionals who can truly make a difference in your appearance. Take some time to review the various name-brand dermal filler injections in Newtown we perform to understand better how we can serve your unique needs.
JUVEDERM:
Juvederm fills in deep creases and fine lines in between the eyes ("11" lines) and around the nose (nasolabial folds) and mouth (fine "smoker" lines). It also enhances lips and other areas flawlessly. The effects generally last 9-12 months.
VOLUMA:
Voluma is an innovative, injectable filler that delivers smooth, natural-looking fullness to sunken cheeks. It also corrects a down-turned mouth and adds firmness to a soft jawline. It can last 18-24 months at a time.
RADIESSE:
Radiesse is perfect for augmentation and re-contouring of cheeks and chin and filling in nasolabial folds from nose to mouth. It also corrects a down-turned mouth and redefines the chin. It lasts 9-12 months.
BELOTERO:
This versatile injectable dermal filler is strong enough to repair smile lines yet gentle enough to improve more delicate features, such as vertical lip lines and the undereye area. It lasts up to 6 months.
VOLBELLA:
This versatile dermal filler injection repairs smile lines above the lip line and achieves subtle lip augmentation. It lasts up to 9-12 months.
Get the Rejuvenated Appearance You Deserve With Treatments Like Derma Lip Line Fillers in Newtown, PA
With our cosmetic treatments, you'll enjoy smooth, fuller skin while maintaining your natural beauty. Enhance the appearance of your skin with Kybella or chemical peel treatments and enjoy a healthier, youthful glow that enables your true self to shine through! From our convenient location in Newtown, PA, Refresh serves residents of Warminster, Yardley, Langhorne, Northeast Philadelphia, Society Hill, Rittenhouse, and all the surrounding communities. If you want more information on our services, whether it be chin augmentation fillers, under-eye fillers, or smile line fillers in Newtown, please contact us at 215-876-0512 to schedule a consultation for derma lip fillers in Newtown and other local areas.