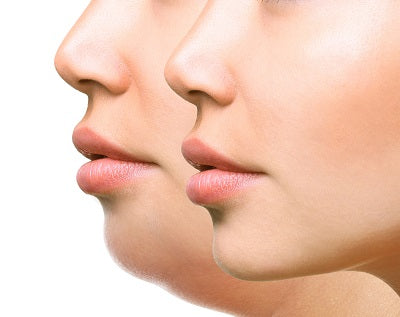 Kybella Treatments for Double Chins Now Available in Newtown, PA
Kybella is one of the most effective injectables available on the market manufactured to assist facial contouring in reducing and eliminating the double chin look. FDA-approved and implemented by physicians across the United States, Refresh's Kybella double chin procedures in Newtown are among the leading methods for women and men to lower facial features to the symmetrical, smooth looks they desire.
Our Other Treatment Options
Refresh also offers programs and treatments in addition to our Kybella procedures for double chins in Newtown, including:
Weight Loss Programs: Our eating and dietary advice are unique to your needs based on a detailed analysis of your metabolism and dietary habits, along with our comprehensive dietary programs and MIC B-12 shots.
NIR Skin Tightening: Our experts provide tightening procedures which can fight sagging skin in your neck, stomach, chin, buttocks, legs, knees, arms, and areas of the face. With that said, cases for each individual will be unique.
Microneedling Treatment: In this cosmetic procedure, a certified device injects microneedles into a particular area in the deeper layers of your skin, promoting the production of elastin and collagen for the skin to rejuvenate trouble areas.
Botox Injections: Our experts can help you diminish the appearance of lines around your eyes, nose, mouth, or forehead for a more youthful look if you're stressed out over wrinkles or age lines.
Dermal Fillers: This procedure is used to improve the appearance of fine lines and wrinkles in faces, correcting a volume loss and enhancing the overall appearance of your skin. Dermal fillers are yet another means of keeping age lines and wrinkles at bay around your eyes, nose, mouth, and lips.
How Can Refresh's Kybella for Double Chin Procedures Help Me?
Double chins are generally the result of genetic factors, excessive weight gain, or natural factors. Nearly everyone who has the double chin phenomenon, also called submental fullness, may be self-conscious about the shape and contours of their jawline and are eager to correct them. However, before the introduction of Kybella, the only double chin procedure available was costly liposuction procedures.
However, with Kybella, circumstances have changed considerably. Kybella implements a substance known as deoxycholic acid that breaks down and absorbs dietary fat and is also created naturally in the human body. When Kybella is introduced to the chin area, it can dissolve the double chins fat to create a slimmer and more attractive look for a patient's jaw and face.
Are the Results of a Double Chin Treatment Permanent?
The effects of our Kybella for double chins treatment in Newtown are typically permanent for patients, and even individuals who experience sudden and significant weight gain do not see their double chin return. Our talented team at Refresh recommends two to three treatments for patients during three to six months for optimal results.
Book Your Appointment for a Double Chin Procedure in Newtown, PA Today!
At Refresh, our team is dedicated to serving our community by helping you become newer, better, and healthier! To learn more about our Kybella double chin treatment in Newtown, Pennsylvania, or to speak with one of our staff about your individual circumstances, please reach out to Refresh and discover what our professionals can do for you!