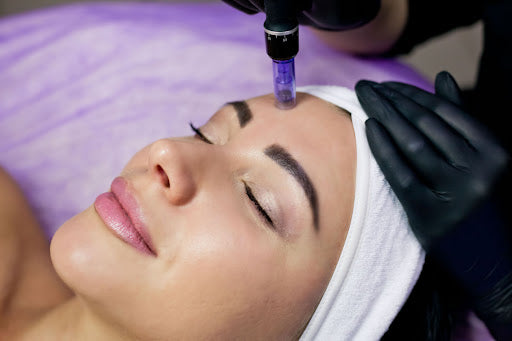 Looking for a way to rejuvenate your skin without having to deal with chemicals or time-consuming surgeries? Then consider scheduling a microneedling session! This minimally invasive skin care procedure offers a wide range of advantages and isn't nearly as expensive as other methods. But what is microneedling, and what can it be used for? Let's take a closer look at the microneedling process, how it works, and the skin conditions it can help treat!
What Is the Microneedling Process?
While microneedling may sound scary at first, it's actually rather tame. Your aesthetician will begin by clearing your skin to prepare it for the treatment — in some cases, they may apply a numbing ointment. Next, they'll carefully roll their microneedling skin pen, or similar device, across your face or treatment area so that the needles can create tiny holes in your skin's top layer. These needles are incredibly tiny and only reach up to 2 millimeters or so, which is comparable to the tip of a pencil or crayon.
The entire microneedling process only takes 15 to 30 minutes, though it can be longer depending on how large the treatment area is. Afterward, you'll be able to go back home with little to no discomfort. It is possible for your skin to become red and swollen for a few days following a microneedling treatment, so be sure to keep it safe and out of the sun. To experience the full benefits of microneedling and see a difference in your skin, you will likely need multiple treatments in the coming weeks or months.
How Does Microneedling Work?
Now that you're more familiar with the process, you're probably curious — what is microneedling doing to your body? During the treatment sessions, the aesthetician's microneedling device creates micro-injuries in your skin. While this might sound counterintuitive at first, it actually prompts your body to activate its natural healing process. Rather than make scars, the tiny wounds created by the needles prompt the skin to create more collagen to repair the damage.
Collagen is a protein used as a building block in your skin and many other parts of the body. It helps give skin a smooth and firm feeling that makes it appear youthful — this is because our collagen production lowers as we age. Thanks to microneedling, your skin can appear younger and have improved elasticity and thickness.
What Is Microneedling Used for?
Does microneedling work with stretch marks? Absolutely! In fact, microneedling has a wide range of cosmetic and medical benefits for your skin. Consider scheduling a microneedling treatment if you're struggling with the following:
Fine lines and wrinkles

Acne and acne scars

Skin discoloration and dark spots

Large pores

Uneven skin

And more!
However, no matter what microneedling is used for or how beneficial it can be, it should only be performed by a trained professional. At Refresh Wellness, you can trust that our team has the necessary experience to perform microneedling treatments. We offer a variety of other cosmetic services as well, including microinfusion facials. For more information on our professional microneedling services and to schedule your appointment, reach out to Refresh Wellness today!